🌱 Seed Potatoes Now Available! 🌱
Posted on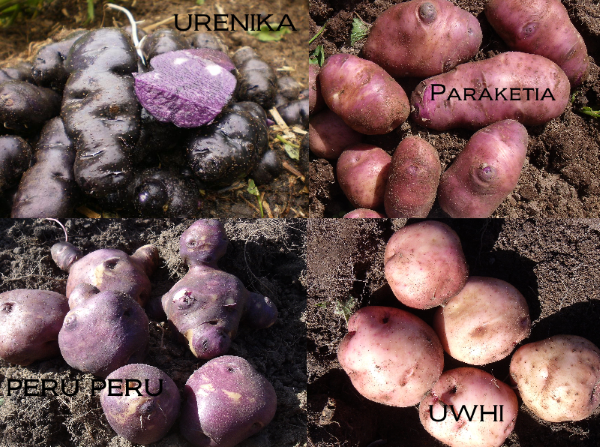 Hope everyone is enjoying their autumn gardens! We are definitely enjoying ours. Having a tunnel house in the mix means we still have fresh tomatoes, and peppers! Wow!!! And we have started eating our winter lettuces and picking greens. We only wish our broccolis had not been devoured by slugs! Yes, we even get caught out at times 😊 I was so keen to protect them from the cabbage white butterflies, so they were covered up. The ol' out of sight out of mind got me again! When I peeled back the frost cloth about a month ago! Darn almost completely gone. So, I got right on it with night patrols and the chickens thanked me for the tasty treat! And added some ground egg shell and sand around each plant, and now, I am pleased to say, they are growing! Just a bit behind what they would have been had the slugs not had a munch.

Seed potatoes are in stock on the website! I want to apologise in advance, as again, limited quantities available. We are so sorry for those of you who will miss out. This is a common problem we have been having with garlic, multiplying onions and seed potatoes as the demand is so high on these crops, but we cannot dedicate all of our time and garden space to them or we wouldn't have all the other lovely seeds for sale. We hope to be able to produce more of these in future, but until more people are established here and helping in the gardens, we will have to grow what we can and keep the varieties going. We hope you understand.

If living here on the farm and working in our seed gardens and being part of our land-based activities sounds like you and your families dream come true, then get in touch as we are looking at inviting more families to live here soon.
We are listing today all of the stock we have. So even if a day after this newsletter goes out our website states, we are sold out some of the varieties, I am sorry to say this will be the truth.

And remember the best thing you can do is to save some of your harvest of potatoes for next season! So, we wish you all bountiful harvests and some spare to hold back for the following year.

Things to Sow in the Garden Now:

Broccoli Raab Spring Rapini, Spinach Bloomsdale, Orach Red, Coriander, and Salad Burnet. We sow lettuces each month to keep in constant supply, now we focus on the cooler season varieties like Winter, Lollo Rossa, Tree, and Speckled. Now is also a good time to get Asian greens like Mizuna, and Tat Soi in, as well as Rocket and Wild Arugula to keep in supply. As the cabbage white butterfly has mostly dissappeared now, no need to worry about them! We have removed our frost cloth protection and starting eating the first leaves from our leafy plantings in late summer.

Don't forget about flowers for the winter garden! Calendulas, Poppies, Lupins and Sweet Peas are frost hardy and beautiful!


We often follow the biodynamic calendar and their recommendation to sow seeds at Moon Opposition Saturn, for these dates, check our website.
Attention!! For Seed Potato Orders Only - YOU MUST USE THE WEBSITE TO PLACE YOUR ORDER. We have such limited stock that it is likely that email orders will not get processed in time before the stock has sold out online. So do not delay and order online. For those who cannot use our website to place an order we are very sorry for this inconvenience and potential disappointment. Please email us at [email protected] with subject EMAIL ORDERS ONLY and we will see what we can do in the future.

Our Website is the best place to find the most up to date information on what we have available at all times during the year.

We encourage orders through this medium, but of course we will still accept orders via email from our Catalogue or via the post using our printed order form. And stay tuned as our new catalogue and updated website will be out in July!

And here is our Order Form PDF or Order Form Excel

Email orders from the catalogue to: [email protected]

Or post order forms to: Setha's Seeds PO Box 60, Tutira 4181

And a reminder that selections of our seeds are also available from our Retail Outlets around the country.

Happy gardening,

Roddy, Setha, Rebecca and River Rose