🌱 Happy Mother's Day & Shallot and Tree Onion Seed Available! 🌱
Posted on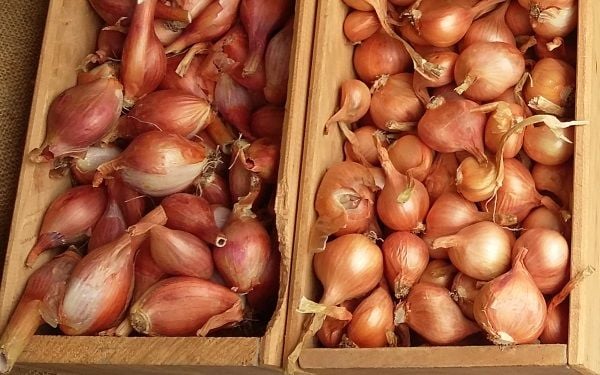 Henry's Flowering Shallot and Egyptian Tree Onion Seed Now Available!
We wish all our mother gardeners out there a very Happy Mother's Day! We will be celebrating here with a picnic and maybe some play and enjoying of our beautiful garden!

And on a very timely topic, our multiplying onion seeds are ready for sale! Limited stock, so get in quick. We apologise for the delay. But we are just in time for planting! This is great news for you, as when you get yours in the post, plant them straight away!

We are doing something a bit different this year. We are sending out bulbils with each bulb pack! We are also selling the bulbils separately too, as you get so many of these beauties with the harvest, and they work just like a bulb for seed! We do recommend planting the bulbils first in trays and transplanting out for best results.

So what is a bulbil!? Bulbils are the top setting seeds on both the Egyptian Tree Onion and Henry's Flowering Shallot. These top setting seeds are why these crops are sometimes referred to as "walking onions." If left in the ground the tops will fall over and the seeds will grow and give the appearance that the crop is walking across the garden! This also makes them a great food forest crop as they will multiply on their own without needing to be harvested and replanted. For those wanting to grow them in a small garden fear not! These really work well in any situation.

An easier choice than growing onions from seed. I find onions to be hit or miss when grown from seed, depending on the season. With multiplying onions, they seem to produce well with a lot less effort! When planted in a well fertilised bed and mulched, pretty much nothing can go wrong. And did I mention how sweet they taste! They are delicious raw or cooked. We hope you love them as much as we do!


Things to Sow in the Garden Now:

Broccoli Raab Spring Rapini, Spinach Bloomsdale, Orach Red, Coriander, and Salad Burnet. We sow lettuces each month to keep in constant supply, now we focus on the cooler season varieties like Winter, Lollo Rossa, Tree, and Speckled. Now is also a good time to get Asian greens like Mizuna, and Tat Soi in, as well as Rocket and Wild Arugula to keep in supply. As the cabbage white butterfly has mostly dissappeared now, no need to worry about them! We have removed our frost cloth protection and starting eating the first leaves from our leafy plantings in late summer.

Don't forget about flowers for the winter garden! Calendulas, Poppies, Lupins and Sweet Peas are frost hardy and beautiful!


We often follow the biodynamic calendar and their recommendation to sow seeds at Moon Opposition Saturn, for these dates, check our website.


Our Website is the best place to find the most up to date information on what we have available at all times during the year.

We encourage orders through this medium, but of course we will still accept orders via email from our Catalogue or via the post using our printed order form. And stay tuned as our new catalogue and updated website will be out in July!

And here is our Order Form PDF or Order Form Excel

Email orders from the catalogue to: [email protected]

Or post order forms to: Setha's Seeds PO Box 60, Tutira 4181

And a reminder that selections of our seeds are also available from our Retail Outlets around the country.

Happy gardening,

Roddy, Setha, Rebecca and River Rose