🍃🌻 New Catalogue and Fully Updated Website 🌿🌺
Posted on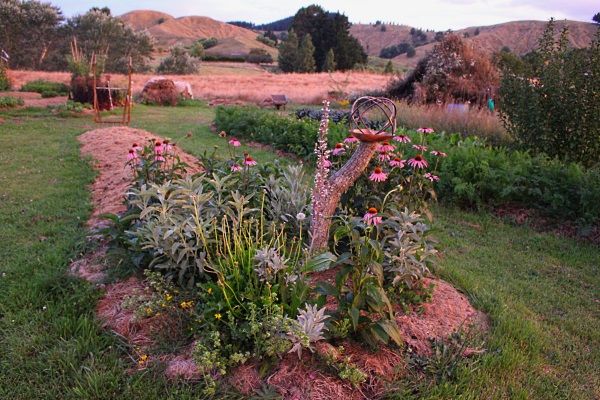 Dear Friends,
We are excited to announce, our new catalogue is out! We have updated our website and our full range of freshly germination tested seeds are all listed on both our Website, PDF Catalogue, and we can also send you a physical copy of our catalogue if you get in touch to request one. We prefer orders through the website, but please choose the method of ordering that works best for you.

It is an exciting time for us here, we are well established in the gardens and this feels very good! The last two seasons have been about building the garden and now that the beds and design are mostly complete we get to enjoy our slice of paradise, and focus more on maintaining the design and building fertility. It is a real dream to have such a beautiful, well designed garden. We are so pleased. This winter we have been adding some fruit trees and more shelter trees around the property. We are amazed at how much the Tagasate/Tree Lucern trees have grown just since November! The northwest shelter belt is well on its way, which gives us confidence for the spring, as this is our prevailing spring wind, and our little seedlings will love having more protection when transplanted.

Our goals for this year are to complete more of the building projects on the property and to grow lots of beautiful nutrient dense food for our family and our restaurant customers. Something that we began last year and hope to continue with is supplying local restaurants that share in our love of unusual and local produce. We have been supplying Bistronomy, Hapi and Cornucopia Organics with produce over the last season. This is not our main focus, but a natural offshoot of the seed growing. It all started when Owner/Head Chef James from Bistronomy approached us about growing some things he could not source locally. As most of the things on his list we had never grown before, we took the bait as we love to grow new things. Ice plant, salsify and parsley root to name a few were first time guests in our garden, and they all did really well!

The building projects we want to complete this year are:
A Polytunnel
3 x Tiny House buildings to be used as office space and intern accommodation
Mud/Earth building to be our own on site seed store, and shop!
Pizza Oven and covered teaching space for our workshops and garden tours
As you can see, this list is extensive. We are seeking interested people (1-2 if a couple or close friends) who would like to come and work with us in the gardens and to create some of these projects. Building experience is not necessary, but would be a huge asset! Internships are typically 3 – 6 months and we also accept wwoofers for shorter periods. Please contact us if you are interested in interning with us this coming season. And see our website for more information. We can tailor programs to suit your needs, so any questions please get in touch. We would also like help documenting all aspects of our work with photos and educational videos to upload to our website and networks. This could also be incorporated into the internship, if you have skills in these areas.

In other news, we have a new shop stocking our seeds!!! Edible Garden, in Ashhurst requested our seeds last year. They have a selection of our seeds available at their shop and also take our seeds out to the events that they attend with their beautiful healthy fruit trees. We are pleased to have planted some heritage apple trees and some berries from them this winter in our orchard, it is so exciting to anticipate the fruits of these labours!

We are also planning all of our spring plantings at the moment, as now is the time to decide: what do you want to grow this year! Such an exciting time where the possibilities seem endless; or at least as endless as space allows. So remember how big your garden is when sowing seeds.




Things to sow now:

As we have passed the Winter Solstice and the days are growing longer we can start sowing some of our earliest spring vegetables. We will be sowing shortly, Kale Cavolo Nero, Silverbeet Fordhook Giant, Broccoli Little Marvel, Arugula Wild, Cress, Rocket, Mizuna, Tat Soi and Lettuces Tree, Speckled and Red Salad Bowl, Lollo Rossa. Don't forget the companion flowers! You can get underway Sweet Peas, Calendulas, Echinacea, Lupins , Poppies. So many options, some perennial and some annual so make sure you choose the ones that suit your garden best.

We often follow Rachel Pomeroy's biodynamic calendar in Organic NZ magazine for inspiration on sowing times.

Our Website is the best place to find the most up to date information on what we have available at all times during the year.

We encourage orders through this medium, but of course we will still except orders via email from our Catalogue or via the post using our printed order form.
Email orders from the catalogue to: [email protected]

Or post order forms to: Setha's Seeds PO Box 60, Tutira 4181

And a reminder that selections of our seeds are also available from Cornucopia Organics in Hastings and Edible Garden in Ashhurst.

Happy gardening,

Roddy, Setha and River Rose
Interns wanted for Spring 2018 and Autumn 2019! See our website for more details. Please contact us if you are interested.

Scottish Broadbean is back! And you can plant anytime for multi-purpose. Good for nitrogen fixing cover crop, building organic matter for chopping and dropping and of course you can eat the seeds, pod, leaves and flowers!
Missing fresh tomatoes?We have 7 completely new varieties as well as a few old favourites BACK! Choose which beauties you want to be eating this summer now and sow them in August in a warm spot!
We have SOLD OUT of our Multiplying Onions and Seed Garlic. Thank you to all who purchased from us. We will have more available next year.
We continue to have a large selection of our seeds available at Cornucopia Organics in Hastings.
Proud to have a selection of our seeds at Edible Garden in Ashhurst!
Don't forget about companion flowers this season, they make a world of difference in the health of your garden.